EXPLORE


We recommend the following route,
featuring many things to see at the KAMADA MUSEUM and its surrounding area.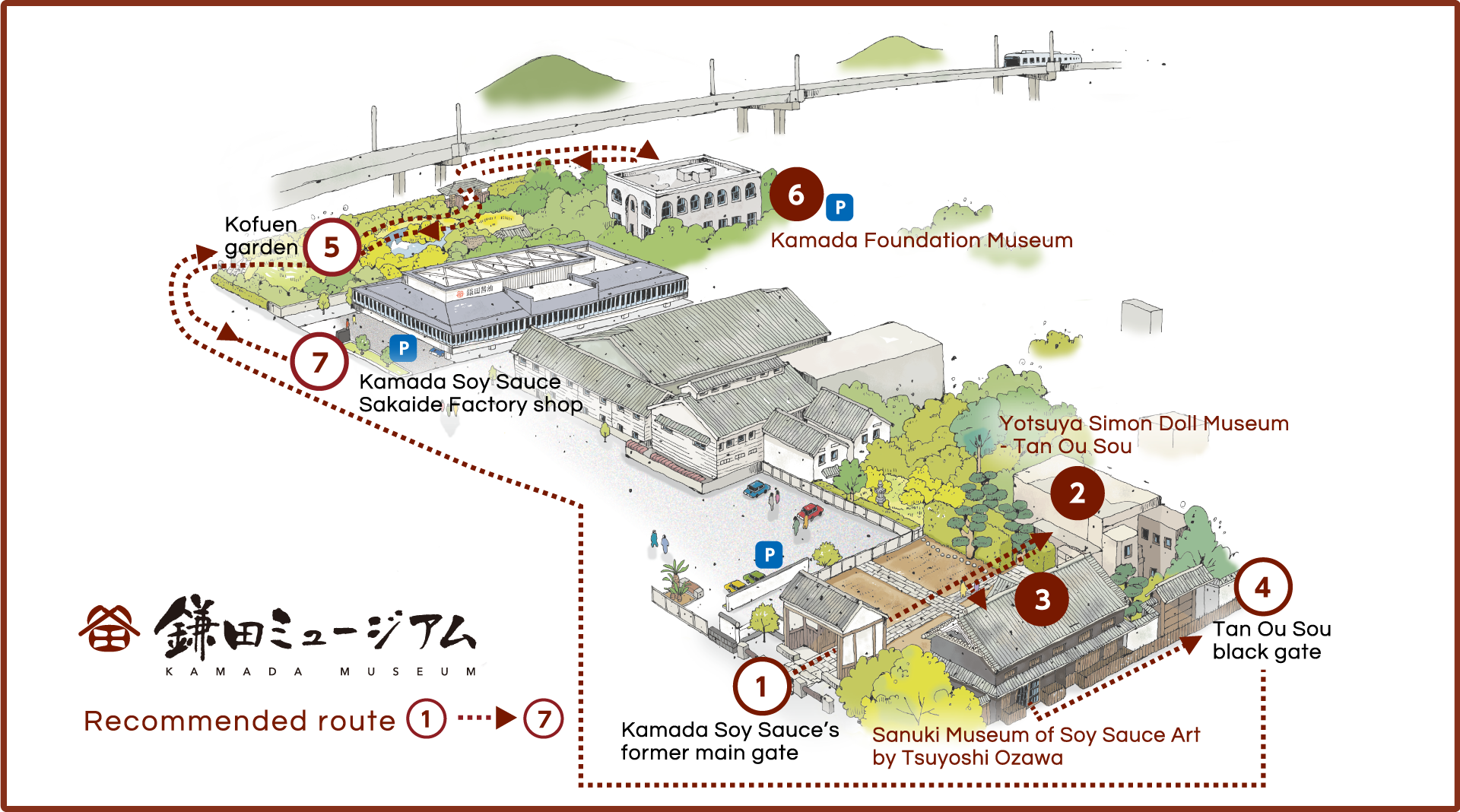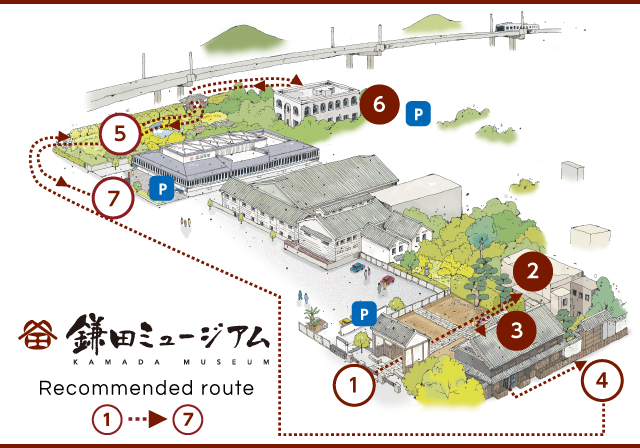 1.

Former gate of Kamada Soy Sauce

Registered Tangible Cultural Property. Built from 1868 to 1882 (in the early Meiji Period), this gate has a stately door in the center and small doors to both sides. Originally inside the Kofuen garden at the Kamada Family's villa, it was moved to its current location in 1955, when the garden was transferred to Sakaide City.

2.

Yotsuya Simon Doll Museum - Tan Ou Sou

Registered Tangible Cultural Property. Twenty-three ball-jointed dolls made by Simon Yotsuya are exhibited in this Western-style building constructed in 1936. Visitors can enjoy coffee and soy sauce ice cream while immersed in this unique atmosphere.

Collect all three stamps at three KAMADA MUSEUM buildings to receive a free gift!

3.

Sanuki Soy Sauce Drawings Museum by Tsuyoshi Ozawa

Reproductions of historic artworks done in soy sauce by contemporary artist Tsuyoshi Ozawa are exhibited at the former Kamada Soy Sauce Flagship Store. This building, constructed at the end of the Edo Period from 1853 to 1869, still evokes the look of a mercantile house from the modern era. Enjoy the art together with the building that is a Registered Tangible Cultural Property.

4.

Tan Ou Sou black gate

Registered Tangible Cultural Property. Built in 1937, this front gate to the Tan Ou Sou is a highlight of the shopping district scenery.

5.

Kofuen garden

This garden was built by Katsutaro Kamada at the Kamada Family's villa from 1908 to 1910. Today it is a municipal park. The western portion is a Japanese-style garden with a pond, while the eastern part is a Western-style garden centered around a lawn.

6.

Kamada Foundation Museum

Registered Tangible Cultural Property. This Western-style building was constructed in 1922, and its unique features include the large, semicircular windows and stone walls. The top part of the second floor has curved, wavy lines. The permanent exhibition rooms include various types of materials conveying the history of Tsuken Kume, while the special exhibition rooms are home to the local collection, including materials on archaeology, Japanese books, illustrations, and calligraphy.

7.

Kamada Soy Sauce Sakaide direct sales store

This directly operated shop adjoins the Kamada Soy Sauce Head Office Factory, with a wide lineup of products such as mail-order goods and products for commercial use.

Collect all three stamps to get a special gift!